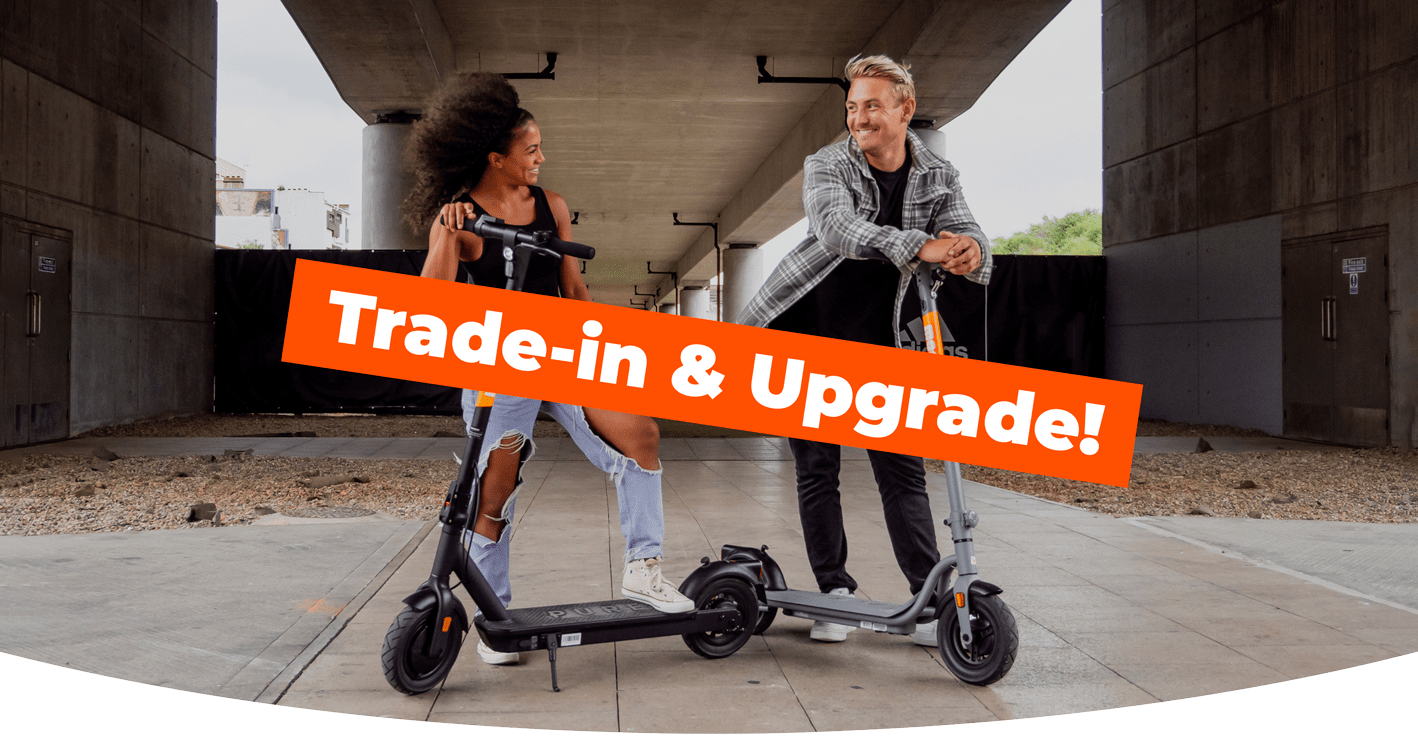 scooter trade-in

upgrade your scooter today with a trade-in!
Upgrading your old scooter has never been easier!

Trading-in your scooter with Moose allows you to receive an instant valuation for your old scooter and get money off your new one today.

Never be without a scooter, we send your new scooter to you the next day, simply send your old one back later.

step 1: 

Choose the scooter you would like to upgrade to and select 'trade-in' to provide you with an instant valuation for your scooter.

step 2: 

Get an instant discount on your order, your trade-in offer will be deducted from the price of your new scooter.

step 3: 

We'll send your new scooter immediately, you then send your old scooter to us us using a pre-paid postage service. It's really that simple!
How long does the trade-in process take?
It's instant! Our revolutionary new trade-in programme gives you an immediate valuation for your old scooter and the money comes straight off your new scooter purchase. Get your new scooter as (with the trade-in discount applied) as early as tomorrow with our next day express shipping!
what scooters can I trade-in and how much will i get?
We accept a large range of Pure Electric, Xiaomi Mi, and Ninebot Segway scooters. Select the 'trade-in' button on the new scooter you want to see what models you can trade in for and the valuation price for you scooter.
how do I send back my old scooter?
Once your trade-in order is complete you will be sent a free pre-paid shipping label for you to send your scooter to our inspection facility. If you don't have the original box, please use the new box that is for your new scooter. Note is is the customers responsibility to ensure that the scooter is safely packaged and arrives in a good condition.
how quickly do i need to send my scooter back?
Your scooter must be sent back within 30 days as stipulated in the Trade-Up terms and conditions here.
what happens if i don't send back my scooter?
If you do not return your old scooter to Trade-Up within the timelines stipulated, then unless you return your new scooter, you will be liable to pay a surcharge equal to the discount you received, which will be served via an invoice. If this is failed to be paid then you will be contacted via a debt collection agency. See more information in our terms and conditions here.
what happens if the scooter i send in doesn't meet the requirements?
If you attempt to trade in a scooter which doesn't meet the requirements we have specified, or that doesn't match the condition standard that you have declared, you will have to pay a surcharge. Please see the Terms & Conditions for more details.

To read the full trade-in terms and conditions follow the link here